With St. Valentine's Day fast approaching, here is a reminder from St. Paul's letter to the Corinthians about love.  This passage is about unconditional love, but can certainly be applied to sexual relations:
Love is patient, love is kind. It does not envy, it
does not boast, it is not proud
. 5 It does not dishonor others, it is not self-seeking, it is not easily angered, it keeps no record of wrongs.
6 Love does not delight in evil but rejoices with the truth.
7 It always protects, always trusts, always hopes, always perseveres.
8 Love never fails.
Another historical figure associated with Love includes Venus, the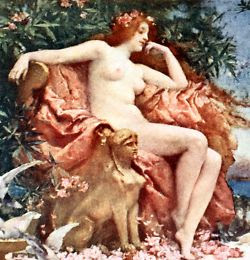 Roman Goddess of love, pleasure, sensuality and  passion.  She was believed to bring life and joy through physical expressions of Love.  However, she teaches that with these delights comes the responsibility of clarity of intent for another's happiness.
In his book, The 5 Love Languages, the author Gary Chapman teaches us "The Secret to Love That Lasts" is in knowing how our partner is able to RECEIVE Love.  Briefly, he states that there are five love languages: Words of Affirmation, Acts of Service, Receiving Gifts, Quality Time, and Physical Touch.  Each one is important and expresses love in its own way. Learning your partner's and your own primary love language will help create a stronger bond in your relationship.
Everything about practicing Tantra is Making Love.  It is with loving thoughts that we choose to accept and honor ourselves exactly as we are, as well as do acts of service for our partner(s).  We create a third entity together which is the relationship itself.  The relationship requires its own level of attention and nurturing to stay vibrant.
"Love Is All There Is"       ~ 
The Beatles
"Do All Things with Great Love"  ~  St. Teresa  
"All You Need is Love"      ~ 
John Lennon
"Love One Another"          ~  a jewish carpenter's son
The more you open to Love, and to be Loved, that is the greatest gift of all.  It is essentially the meaning of life itself and the basis for great sex!